Dewees History Tour Station 5: Palmetto Tree
Palmetto: Part of the Earliest Published descriptions of the Island
The state tree of South Carolina, the Palmetto, is actually a grass, not a tree. Palmetto Trees have been a landmark feature of the island since its earliest descriptions. Explorer John Lawson stopped at the island in 1701 and described staying here on "Bell's Island, in a "House was thatch'd with Palmeto-leaves, the other open to the Heavens, thousands of Musketoes, and other troublesome Insects, tormenting both Man and Beast inhabiting these Islands."
The Palmetto-trees, whose Leaves growing only on the Top of the Tree, in the Shape of a Fan, and in a Cluster, like a Cabbage; this Tree in 

Carolina, when at its utmost Growth, is about forty or fifty Foot in Height, and two Foot through… John Lawson, A New Voyage to Carolina
Dewees Island Palmetto Trees Used to Build Fort Moultrie
Palmetto trees were shipped from Dewees Island to Sullivans during the revolutionary war.  Their spongy centers absorbed the energy from cannonballs: some even bounced right back.  "the Palmetto state" nickname traces back to that battle. The palmetto's  soft stem absorbs the force of cannonballs without shattering.  This trait also allows the trunk to bend in a hurricane instead of being broken and uprooted.  Trunks were also used in the construction of wharves and the fronds are used in the making of Sweetgrass baskets.  The long stringy roots help bind soil in unstable zones, assisting in erosion resistance.
Jim Cochrane's Description (with Henry Savage's River of the Carolinas)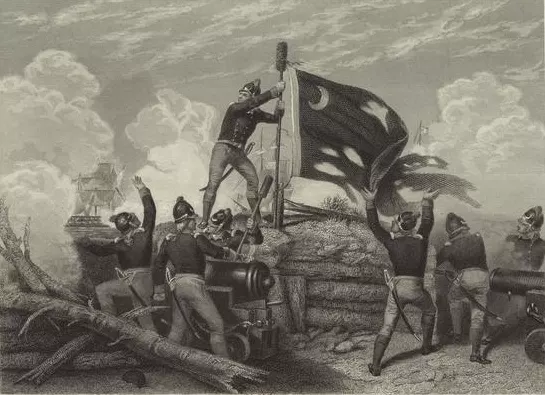 Accordingly, in january, Mr Dewees, who owned the Sea Island above Long island, was instructed to furnish Palmetto logs until further orders " not less than 10 inches diameter in the middle. One third are to be 18 ft long, and the other two thirds 20 ft long and "he was to be allowed one shilling per foot for all such logs as delivered in which delivery the utmost expedition must be used."
Of these logs and the sand of the island, with the help of a few other timbers and some iron bolts, the fort on Sullivan's Island was built. The site chosen for the structure was the narrow southwest end of the island where a wide shallow Cove separated the island from the mainland… the design of the fort was simple indeed. a plain rectangular structure…
The strength of the work was to be in the double walls, sixteen feet apart built of Dewees' palmetto logs securely bolted together with the space between filled with sand. Inside, ten feet from the top, the gun platforms were to be built of heavy oak timber.
In 1861, South Carolina officially added the Palmetto tree to the state flag.  This was to commemorate Col. Moultrie's defense of Sullivan's Island on June 28, 1776.  The British fired cannonballs at the fort, but the spongy nature of the Palmetto logs that built the fort absorbed the force of the cannonballs and simply bounced them back.
1780: More Logs Sent to Fort Moultrie
In 1780, Charles Cotesworth Pinckney sent militia to Dewees to serve as cover for the enslaved persons who would harvest and transport wood to Fort Moultrie to be used as firewood.  Two months later, the siege of Charleston would begin.
Dewees Island as Logging Plantation
In the late 1700's The island operated as a palmetto logging plantation, selling wood at the Charleston markets.  A 1791 inventory of improvements included a cabin for 30 enslaved people, probably located near this location on this southwestern part of the island.