In early August, we were given a glimpse into sweetgrass harvesting techniques as Lynette Youson brought some basket makers over to Dewees to harvest sweetgrass.  Dewees has allowed harvesting of our sweetgrass since the earliest says of development, but we haven't had anybody here harvesting since the pandemic, so this was such a treat to watch.
Lee Miller invited Lynette Youson and her colleagues after noticing that the sweetgrass in her yard had become unwieldy, and reached out to see if a group might come harvest. While they were here, they harvested the cultivated and wild sweetgrass along Dewees Inlet Drive, Capers Inlet drive, Huyler House Walk, and private yards.
It's gotten harder and harder to find sweetgrass~ many of the places it once grew wild are located in gated communities with limited access.  Even here on Dewees, rising water levels have wiped out many of the plants along Capers Inlet drive, and the road is now lined with spartina patens, aka cordgrass or "watergrass", as well as sea oxeye daisy and swallowwort. So we're looking at ways to increase the stands of native sweetgrass on the island.
Lee and Rick Miller hosted the crew for lunch at Huyler House, with some additions from other residents, and we got a chance to learn about the basket-making families.
At lunch, Lynette explained that the basket tradition in her family began with enslaved ancestors from Sierra Leone, and the baskets were created to harvest rice.  The materials were sweetgrass, pine needles, bulrush, and the state tree, the Palmetto. She learned basketry at the knee of her great grandmother Maggie as a child, and her mother has been making baskets for 76 years.  They each have a piece in the Smithsonian!  Her mother's was added to the Smithsonian's collection in 1976, and hers in 2013! She still weaves today at Mount Pleasant memorial park.  Her granddaughter Alais has been making baskets for 5 years.  This was her second time harvesting sweetgrass.  Her brother Mike was also here.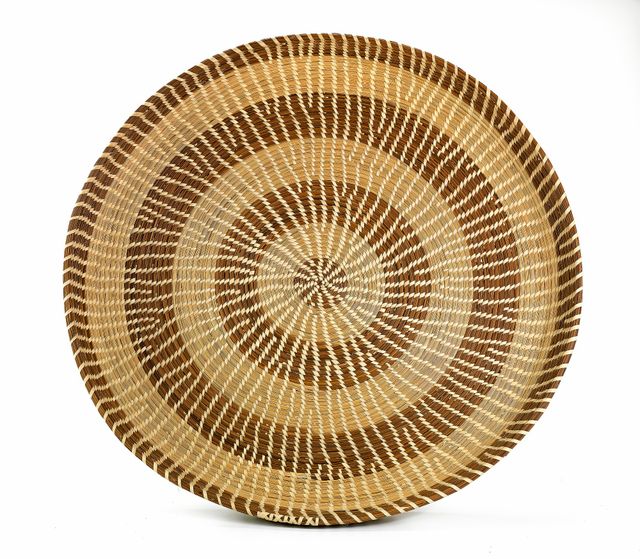 Back in the day, they wouldn't have been allowed to weave with a spoon handle, like we do today. They would have had to do it with some type of animal bone, but the more you used the bone, the ends wore down and you had to keep replacing the bones.  But after the slaves were freed, then you'd start using a nail. And from the nail, they moved up to the spoon handle.