We had a great turnout for our annual POA weekend on March 19th. The weekend started on Thursday with the The Dewees Conservancy sponsoring an evening cruise up the Waterway to observe the Oystercatchers. Irish libations and snacks were served while Audubon and DNR bird experts shared their knowledge and sharp eyes as we relaxed and enjoyed each other's company.
The official POA activities began on Friday morning, with meetings, a behind the scenes tour of the Public Works area, and a golf cart safari Environmental guided tour.

On Friday Evening, a record attendance at our annual owner's reception was held at Huyler House, with a lovely meal catered by Cru Catering, and lively music by the V-Tones.
Saturday morning's meetings kicked off with the Dewees Utility Corporation's annual business meeting and snacks on the porch, followed by the POA's business meeting. Owners received a new owner's guide, with information about staff and policies. They were distributed one per lot, with extras for sale for $15.00.  If you would like a copy for home, contact Judy or Catherine Kovacs.  You can also download it as a pdf here, or order your own copy (or read it online) here.
There were great kids activities scheduled and conducted by Nolan Schillerstrom, Audubon's Seas and Shores Coordinator, where island kids made signs for protecting our beach nesting areas.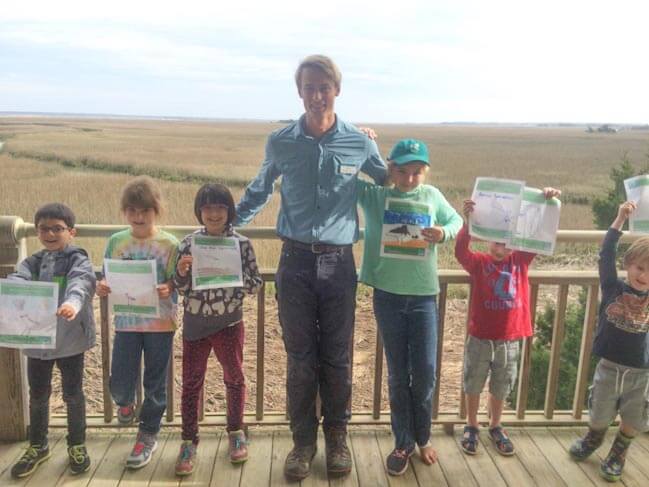 Our annual election of Directors was made easy by an independently certified online voting system. Kim Knight, island manager, estimates this increased the number of lots voting by 15% percent, giving us a record-breaking voter turnout of 75%. For the utility, the increase was 20%, with a record-breaking 70% of lots voting. One advantage of the system, besides making it easier for members to vote and tally results, was that it freed up time during the annual meeting to focus on other things.


Dave McIntyre, POA board president, Bill Easterlin, Board member and treasurer, and Kim Knight, Island manager, began the session with a discussion of our sound financial status, which are very healthy and focused on visioning for the future. One happy note is that the number of non-paying members who were delinquent on dues has decreased from our one-time high of 22 lots to our current number of zero.
Our keynote speaker was Jaimee Rayder from Ducks Unlimited, who addressed the planned wetlands restoration of the Lake Timicau area. (more on this in a separate post.)

The remainder of the morning focused on long-range visioning sessions with all members able to make suggestions and offer feedback. It was a constructive discussion that gave everyone a chance to be heard.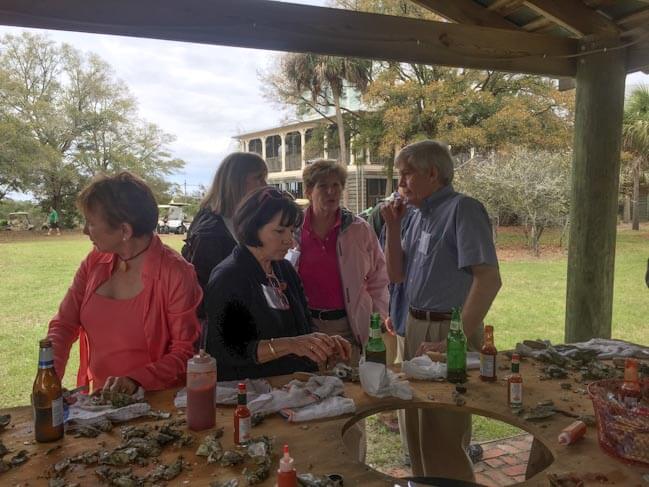 The day finished out with our community oyster roast and cookout, which was (as always) delicious and well-catered by the Noisy Oyster. By my estimate, over 52 lots had at least one member in attendance (and many had whole families or partnerships.) The weather was delightful and we all enjoyed the camaraderie of visiting with owners that came for the weekend from distant residences.