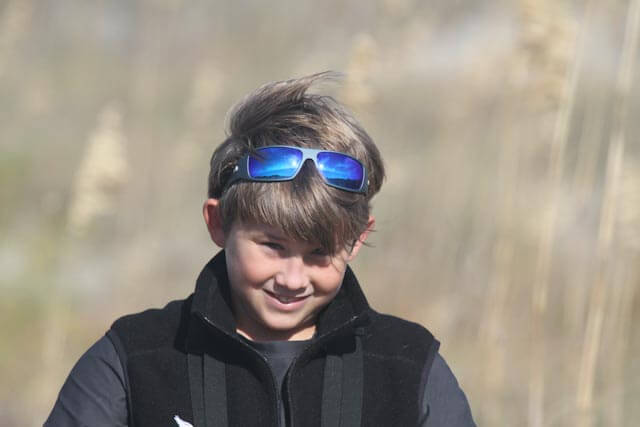 I am a big fan of citizen science projects, and the way they connect us with the world around us. One of my favorites is ebird, Cornell University's birding site. One of the interesting parts of this is that we can track data from year to year: when the birds arrive, when they migrate, how many we see at a time. This is how I know that the flocks of ducks we see in the impoundment are growing in both number and variety. Last year we found a few American Coots (an odd black waterfowl with a white bill that's a food source for bald eagles) and the regular mixed flock of widgeon and gadwall stood at about 80 birds. This year, there was a flock of 150+ coot, and the Widgeon/Gadwall flock is double the size of last years. My sense is that the impoundment restoration of habitat has improved the winter foraging for the ducks and the whole ecosystem is healthier. Our participation in Cornell University's ebird data system bears that anecdote out and provides us with real data that the impoundment is healthier.
After re-engineering the impoundment with the help of US Fish and Wildlife and the North American Wetlands Conservation act, our water levels have been easier to manage, allowing us to keep levels of dissolved oxygen up and avoid fish kills. The shallower water in some of the areas is a good foraging ground for wintering ducks, as well as nesting and resting shorebirds. This winter has given us some of the highest numbers and widest diversity of species that we have seen.

Citizen science isn't just for adults. Ted has been participating in the annual Christmas and Spring Bird Counts on Dewees since 2008. (He was 7 at the time.) Now 13, Ted has a pretty good command of bird identification, and is a valued member of the birding group for those major counts. His favorite part is trailing guest birder Aaron Given around the island, usually on the north end in the conservation area.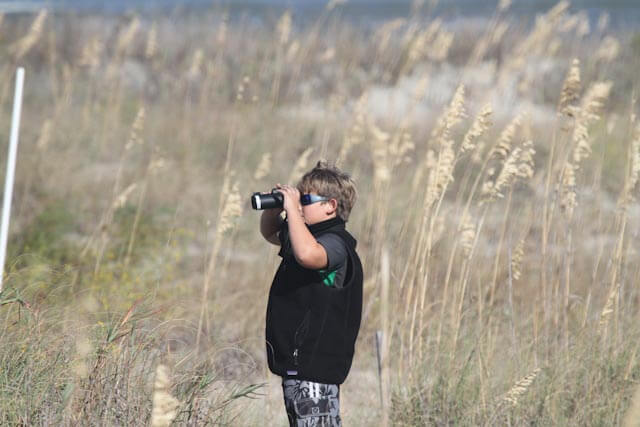 It's worth getting up early with the birders. One time we saw three screech owls and four great horned owls. Aaron shows me where the deer have rested, and field signs of bobcats, and how to tell the calls of the sparrows and woodland birds. We see other interesting animals when we are watching, too: mink and otters, and the red fox in the dunes.
Aaron is the Kiawah Island Wildlife Biologist, and every time I bird with him, I learn something new. As does Ted: he has gotten good at tracking the mammals of Dewees, reading field signs with the turtle team, and identifying bird calls. This combination of real fieldwork, a great role model, and the intersection with technology has connected him to the natural world in a deeper, more fundamental way than just looking out the window. There are real things to explore here, and real science to participate in. Every time we enter data, we are identifying those species we want to preserve and protect.
And this is the beauty of those citizen science projects– the act of participating makes you learn new and interesting things. I started with a weekly glance out the window at a bird feeder when the kids were young, and logged in the species I saw each week. I got so I could recognize individual chickadees by behavior, and the kids started to notice the everyday wonders around them. One of Ted's first words was "painted bunting." Kate, a keen observer of natural details who can capture the essence of her experiences in art, was surprised in middle school to find out that most of her schoolmates didn't know the names of the all the birds– it had never occurred to her that all kids wouldn't know them as part of everyday vocabulary.
You don't have to be on Dewees to participate in citizen science projects– Project Feederwatch is winding down its season, but that is one of the best ways to learn about nature as a family. Participation in the island turtle team is fun for all members of the family and helps us understand more about the life cycles of our state reptile, the loggerhead turtle. It gives you a direct experience described by Richard Louv in Last Child in the Woods as "the sensory magic that occurs when young people, even those beyond childhood, are exposed to even the smallest direct experience of a natural setting."
 If you haven't had a chance to see the latest Dewees Island Video about how we connect with nature, give this a play.  If you like it, please share it with others– by email, facebook, or just calling them to come see!