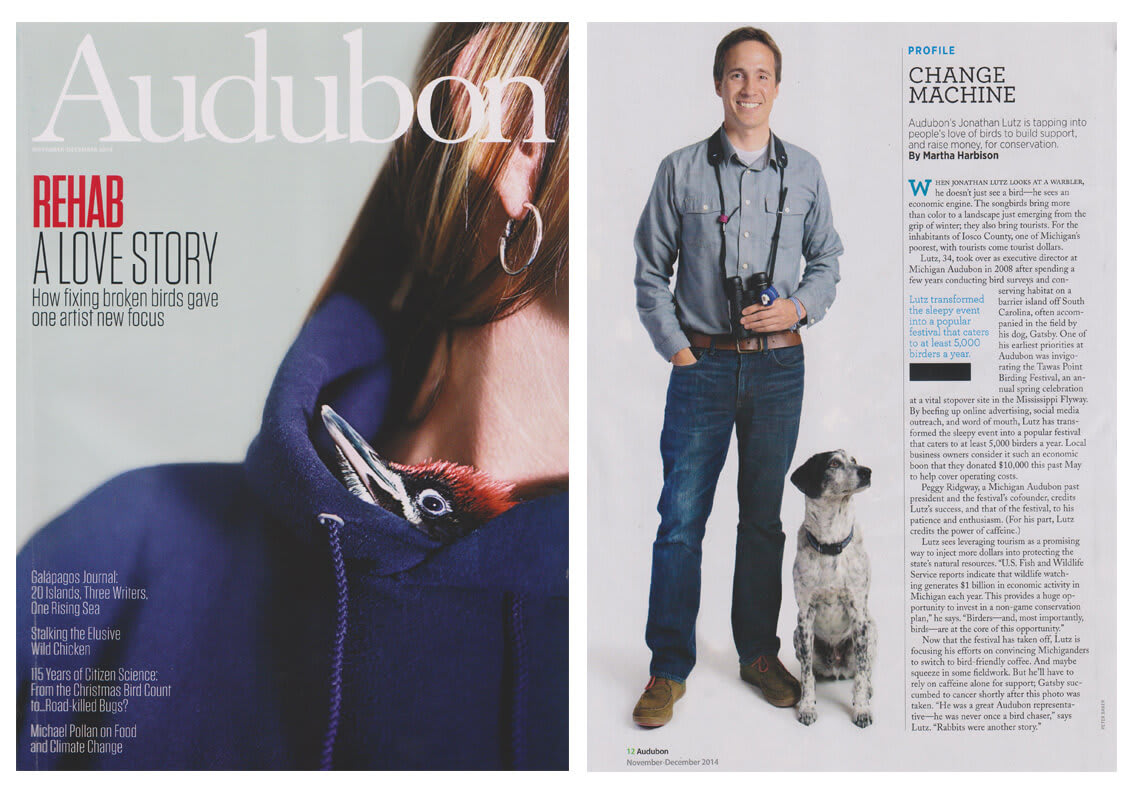 Former Dewees Naturalist Jonathan Lutz turned up in the pages of Audubon Magazine this month.  The story focused on the changes Jonathan has made in Michigan, using his great marketing skills and and social media savvy to improve attendance at the Tawas Point Birding Festival.  Many island teens and families remember Jonathan fondly from his time here– summers of Dewees Camp created memories and left our island kids with a greater appreciation of the natural world around them.  We remember when he brought Gatsby home to the island as a puppy.  At least one of these kids has returned to the island to serve as a nature coach themselves.  Frank (summer intern of 2014) helped a new generation of kids learn about nature as an intern on Dewees.
Jonathan also has fond memories of his time on Dewees.  He says,
"Living on Dewees Island is a naturalist's dream. Falling asleep to the sound of Whip-poor-wills, going for morning runs past roosting flocks of Wood Storks, and watching North Harriers soaring out my office window–my time on Dewees immersed me in the world of birds. Birding with the late Ed Conradi and hosting the Charleston Natural History Society (the local chapter of Audubon South Carolina) introduced me to bird appreciators of all varieties, including dedicated checklist-keepers. I have distinct memories of seeing my "lifer" Wilson's Warbler, counting Ruddy Turnstones on the North End with Gatsby by my side, and admiring hundreds of Northern Gannets pushed close to shore by heavy fog. All of these experiences have inspired and helped me be successful in my current role as Michigan Audubon's Executive Director. Dewees Island and its residents are mentioned often and with fondness in my interactions with colleagues and Audubon members throughout the Great Lakes State."

As a fellow birder who also learned a lot from the early bird counts on the island, I hope Jonathan will come back for a birding visit soon!
In the meanwhile, click here for the full article at Audubon, or look at page 12 of this issue (Nov/Dec 2014 of Audubon Magazine.)